Aequilibria installation complete
1/8/2020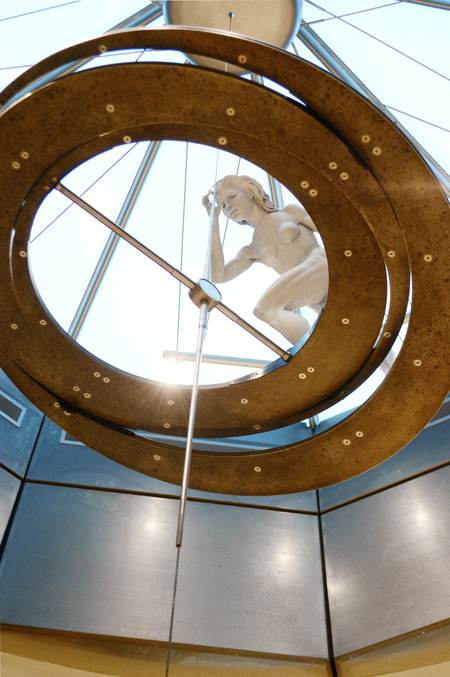 We are pleased to present Aequilibria, David's newest suspended artwork.

"The allegorical figure of Lady Justice presides over the facades, and loiters in the lobby of every Courthouse in the western world. That archaic image - blindfold, figure, sword and scales - is here re-formed within the currents of our fast-flowing cultural moment.

Staggering technological and teleological flux has us grappling for viable footing as never before - and perhaps nowhere more than within the juridical sphere is a culture's feet so bound to its foundations.

So, rendered here is no longer some lesser deity holding up simple binary judgement, but humanity itself in the shifting scales... Grappling over the post-Nietzschean void... Astride tilting and contingent ground. In elliptical orbit amid the planetary pull of passing epistemologies. Striving for poise within the requisite un-balance of any and all progress...

And even so, this figure inclines toward the ancient human citing of a true and plumb line - some existential axis along which we may divine and provision a right and just orientation toward the nature of being." ~DR, 2019

Thanks to Brenda Bradshaw for helping make this piece a reality.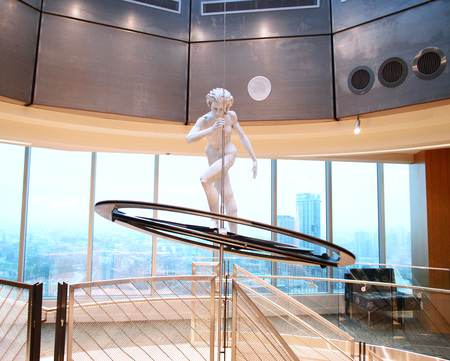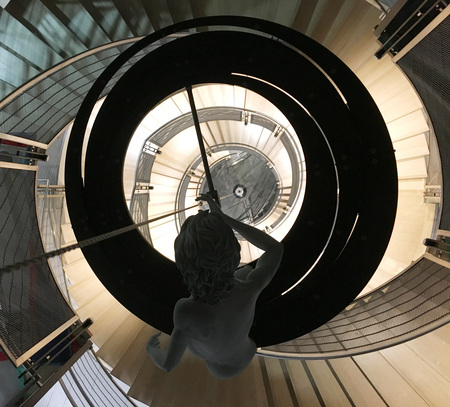 ---
Windward Calm installed at VGH
11/1/2018
Having spent some hours at the Gordon and Leslie Diamond Healthcare Centre as a recovering cardiac surgical patient, David was inspired by the shared experience of fellow patients all gathered in the lofty and hushed place of waiting. As witness to patients' imposed vigilance under the glacial passage of time, Robinson reflected upon the many people that gather there under the spirit of human care; every living body a vessel upon uncharted waters.

This artwork asks us to consider the body and the soul "aloft in countervailing vortices of gravity and grace. The slow turning, rise and fall; breath as wind, as spirit…. In this work, we see ourselves reflected, leaning into the wind and navigating realms unknown."

David would like to thank Gordon and Leslie Diamond as well as the VGH UBC Hospital Foundation for helping him realize his vision. Video courtesy of https://www.littlewolfproductions.ca/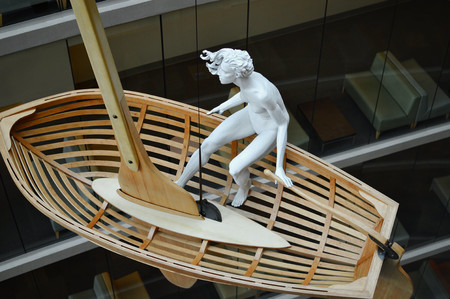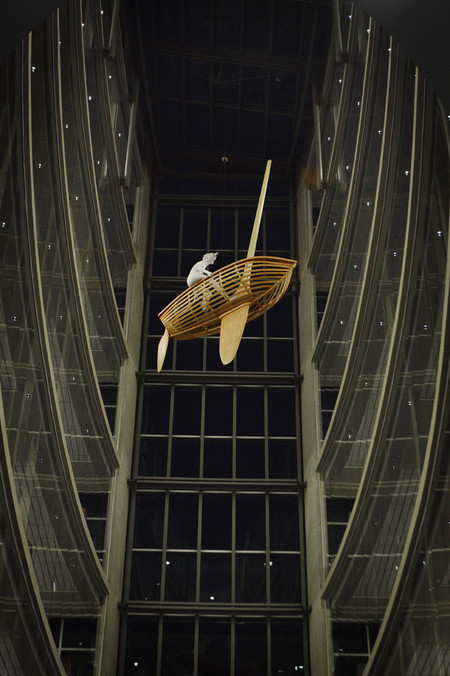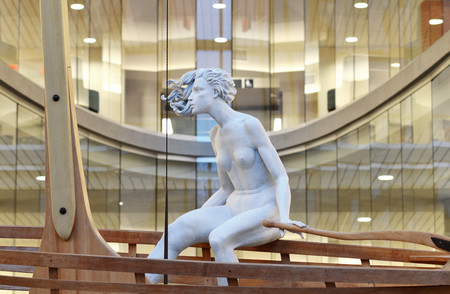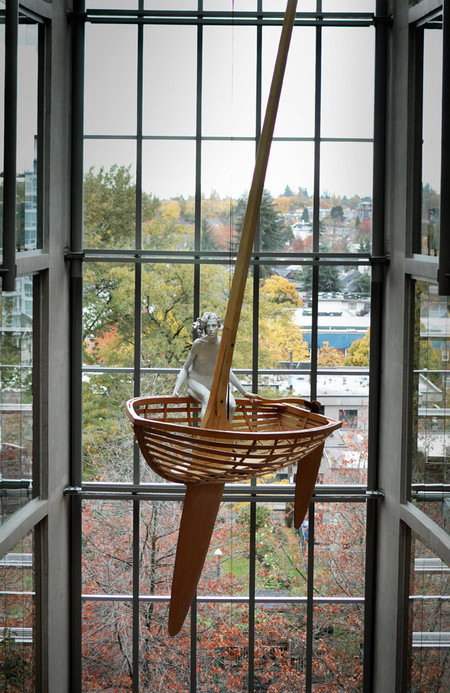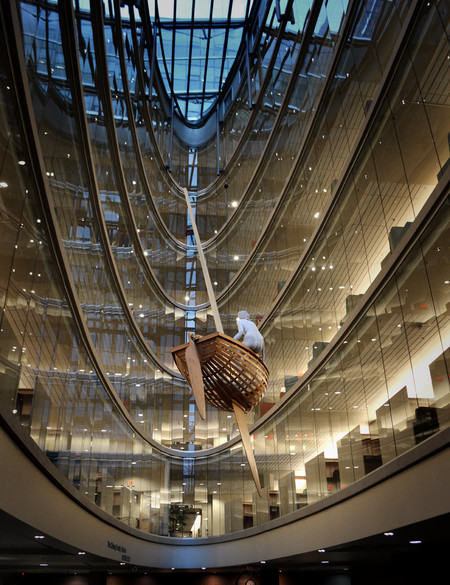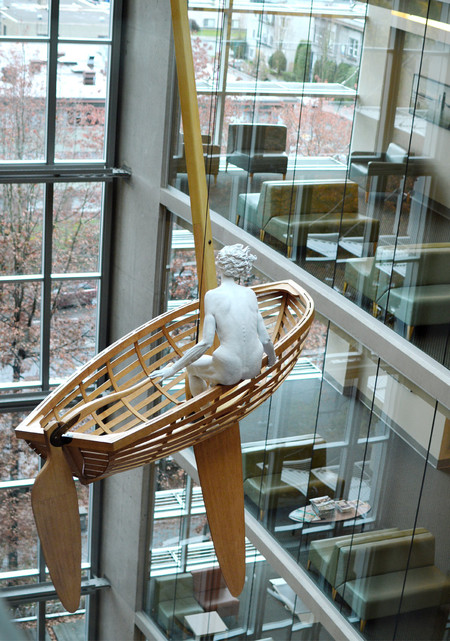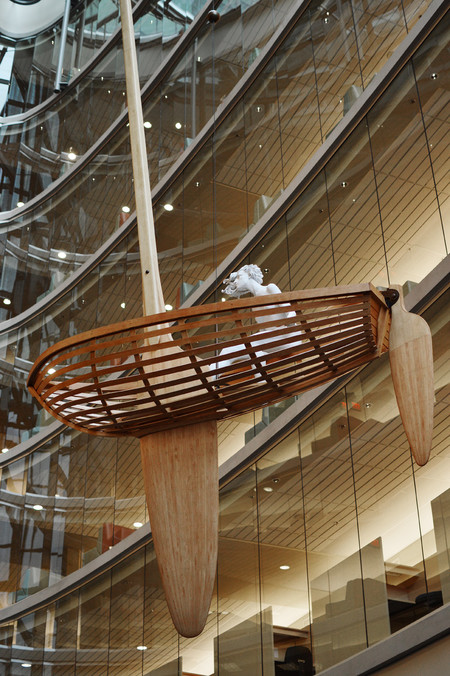 ---
Reflections on the River
10/8/2018
We're delighted to announce the completion of Reflections on the River, the first public artwork commissioned by the Regional Municipality of Wood Buffalo. This project grew out of an exceptional public engagment process in a very special community, and we're honoured to have worked on a project that was undertaken by such passionate and dedicated people.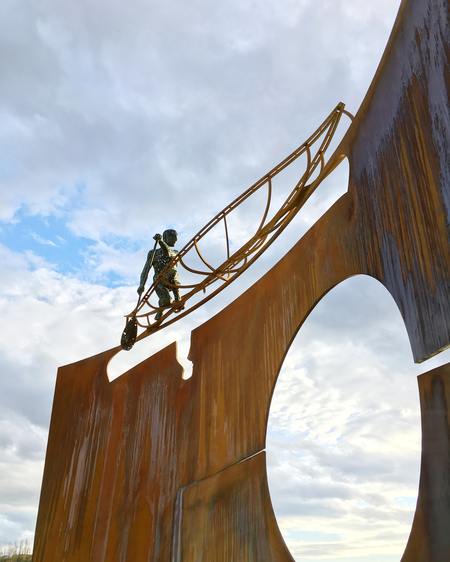 "Though the typical language of monumental public sculpture is often focused on memorializing some particular personage or event, this works seeks instead that greater distance from which we might see not a human but humanity - not a river, but the cultural connectivity of rivers.


Approaching MacDonald Drive, framed against a stunning view of the Athabasca River, we see a broad plate of Corten steel; rising 20 feet out of the ground, cut and curved as the meandering oxbows of the wandering water it mirrors. Drifting the current in a morphic memory of the ancient canoe, we see a figure plying these ancient waters. With their earthen oxides of green and rust, both canoe and figure are sculpted in an open lattice of metalwork; they are intended not as opaque historical depiction, but as open aesthetic reflection. Human and craft, their conjoined image playing on the waters, with a blazing sun, the harbinger of time, balancing on the horizon.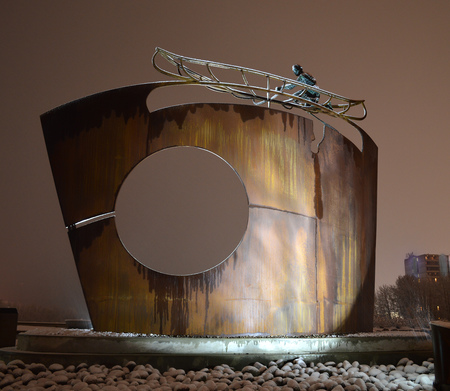 ...further writings on the river
At the confluence of these boreal rivers fluid purposes converge, resolving into current, and countercurrent, all within a flow unceasing.
The image of river informs so much of our language, so many of our metaphors: of continuity, of natural necessity, of time itself...
Flying into this city-at-the-confluence we witness from the air the river's own aptitude for wayfinding and change in a rugged terrain. To some unheard music she moves, in turns following and in turns leading, arabesque across the plain.
Humanity has been moved by means of her power, and is moved also by her grace, toward intimations of the sacred.
Nine thousand years of human habitation at this site, we are told. Compelled here like the river itself; our own bodies of water are borne in the current toward future possibility." - David Robinson