Eastside Culture Crawl 2022
11/18/2022
We're welcoming visitors for this year's Eastside Culture Crawl, and the studio has a big selection of works-in-progress for show & tell, as well as our gallery of finished work. We hope you'll come by, see the space, and ask lots of questions!

The festival hours are 5-10pm on November 17th and 18th, and 11am-6pm on the 19th and 20th.

We can be accessed two ways: Our studio entrance is at 1101 William street (off Vernon Drive). We can also be accessed via the parking lot in front of Parker Street Studios - just follow the the ramp down on the South end of the lot and continue South down the hallway to our gallery door.
---
25th Annual Eastside Culture Crawl
10/28/2021
We are thrilled to be welcoming the public back for our 25th Eastside Culture Crawl. The Eastside Arts Society has done a tremendous amount of work to adapt to changing conditions and has planned a wonderful festival for November.

We will be open on both weekends: November 12th -14th is by appointment only with scheduling available here. November 18th - 21st is the usual Open House format. Please note - for smaller studios such as ours that cap visitors to 50 or fewer, vaccine passport-checking is discretionary, and Robinson Studios will not require passports. But be prepared to show your passport for the majority of participating studios including 1000 Parker Street.

Masking, distancing and self-screening for symptoms are mandatory in all studios.

Appointments

A few notes about the Culture Crawl scheduler:

This system allows up to 10 visitors to book in any given timeslot. This means that if your party has fewer than 10 people, other visitors can book during your slot as well. If you'd prefer to have a private visit please contact us for details.

Location

After 30 years at Parker Street Studios we moved to a new location in 2020, so the Crawl experience will be a little different this year. Our location at 1101 William Street has the studio and gallery under one roof. Visitors will be able to see the production space as well as the gallery, including several works-in-progress.

The main doors at William street bring you to the workshop space first. From there you can connect through to the gallery. Our space is also accessible from the Parker Street Studios parking lot (where the food trucks gather). Follow the signage down the south ramp and down the south hallway to enter via our gallery doors.

For wheelchair or other stair-free access please use the Parker street entry route.

We look forward to seeing you!

---
Dead Reckoning Monumental installed at Trent University
9/8/2021
We are excited to announce the installation of Dead Reckoning at Trent University as part of their 50 year anniversary of rowing excellence! We are grateful for the tremendous support we received from Trent admin, alumni, staff and community as the project developed.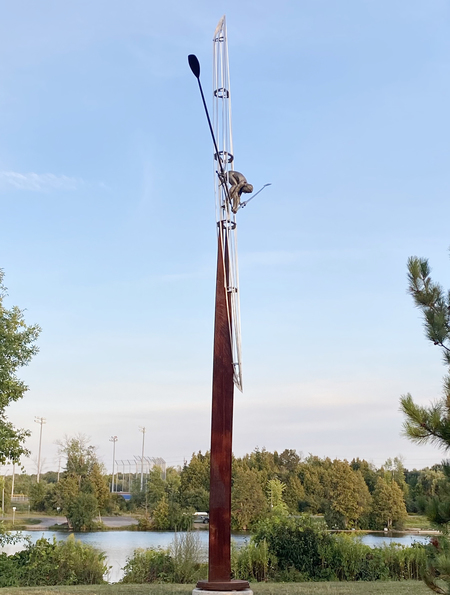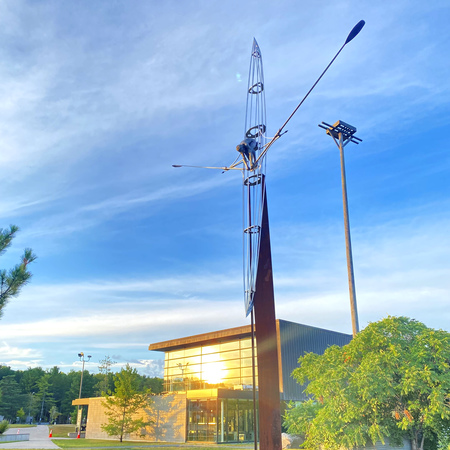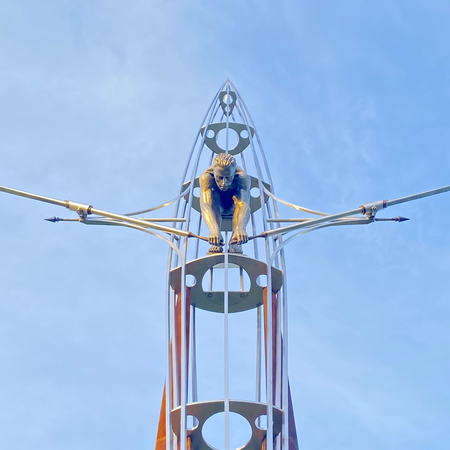 Dead Reckoning: (also ded for deduced)

noun: 1) Navigation without the aid of celestial observations. 2) An estimate based on little or no information.

Inspired by aero/nautical forms and their attendant navigational purposes, this work articulates a striving human imperative: the thrust and pull of free will encountering the real.

The rower is an image of will; poised and replete with focus and energy, needing only the means to discern in what direction this deeply felt purpose may lie.
---
Keith Beedie Tribute
7/6/2021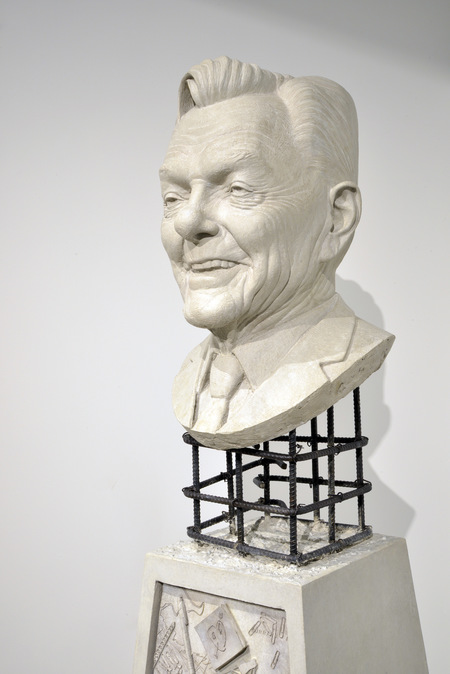 David recently had the privilege of creating a portrait in tribute to the great patron of 1000 Parker Street, Mr. Keith Beedie. Keith's remarkable life is an inspiration to David, and Keith's support for the arts community by the founding of Parker Street Studios has been instrumental in David's career development. Ryan Beedie has continued that tradition of patronage and philanthropy, and all of us at the studio are grateful for the opportunity to have produced this piece for him. The portrait now has pride of place in the Founder's Room at the Beedie offices. The story panel in the plinth draws on myriad elements of Keith's life and legacy.⁠⁠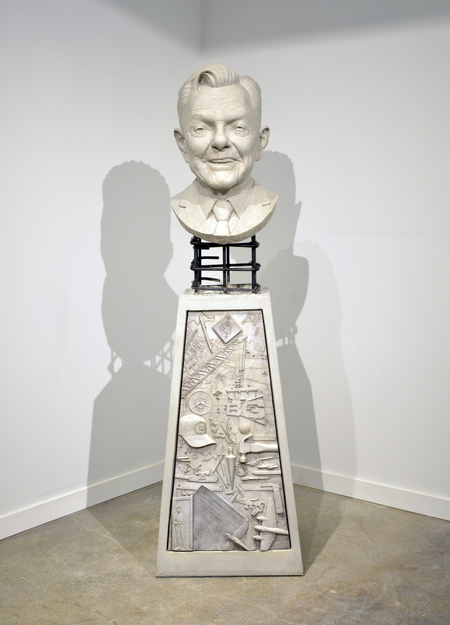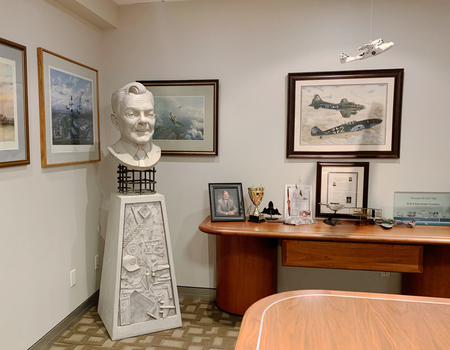 ---
Documentary Short: A Windward Calm
7/6/2021
We are excited to announce that the documentary short A Windward Calm was featured in several film festivals this year, and was selected by the Whistler Film festival for their Canadian ShortWork Competition. The film focuses on David's kinetic suspended sculpture in the Gordon and Leslie Diamond Healthcare Centre at VGH.

Responses to the installation of the sculpture Windward Calm have been moving and humbling to David and his team. One beautiful - and poetic - reflection on the sculpture came to us from a Cardiac Function Clinic patient:

"I had to wait a while yesterday to see a cardiologist on the sixth floor of the Diamond Health Care Centre, and spent much of that hour marvelling at the quiet force, the grace, and the many intimations of immortality emanating from what I know now is your extraordinary sculpture, Windward Calm. The wintery light slanting toward sunset had somehow turned the atrium into a deep column of ocean water, amplifying the already extraordinary effect.

I actually glimpsed the piece within a few seconds of walking into the building, before I even knew it was yours or that the vessel contained a figure, just that a little keelboat was afloat high above me on the surface of an unknown sea. I had to sit down for a moment in the lobby cafe because the sight of that keel and hull so far up rattled and reminded me that I was myself at the bottom of an ocean in health terms. And I kept thinking about that little dinghy as the elevator rose up toward it. Arriving on the sixth floor, de profundis, came with a flooding sense of relief, of breaking the surface, full of renewed hope, and oxygen, and resolve.

Then when I realized there was a figure at the helm, and that it was your figure, your sculpture, I was struck by the further significance of it all, the idea of the forces that propel us, the winds, the destinies that we try so intently to channel to our benefit. So beautiful, the metaphor of a breeze and the boat that transmutes it, at this very juncture of our arriving, in need, at a centre of medical science, arriving with all our fear and our bravery and our vulnerability, a breeze that will carry us onward, whatever the science may show us, however long our allotted passage may be."